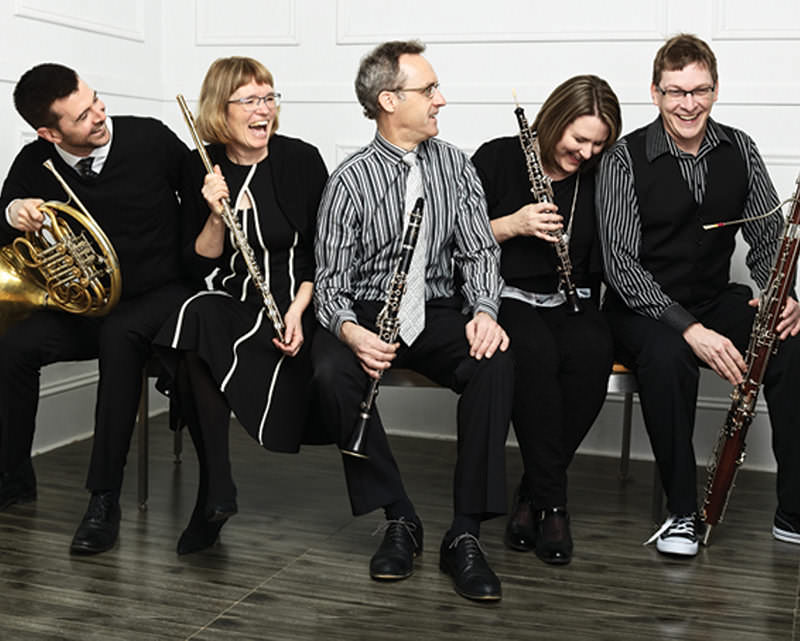 Saturday September 7 2019, 5:00 PM
Summer of Youth
Classical … with a twist: Woodwind quintet Ventus Machina presents Summer of Youth. Sparkling melodies, sweet saxophone, and new cover arrangements of songs by Leonard Cohen, Gordon Lightfoot and Ian Tyson - a Canadian folk celebration! Ventus Machina with Andrew George, clarinet.
Memory Lane Heritage Village will once again host a Musique Royale Concert in the historic Clam Harbour Church, followed by a candle-lit three course dinner in the Cookhouse.
Reservations must be made by the Thursday before the concert. Overnight Packages are available at local accommodations.
Formed in 2011, the New Brunswick-based woodwind quintet Ventus Machina has quickly become a major player on Canada's east coast classical music scene. Their flexible and dynamic style of performance—often presenting themed programs that at once engage, entertain, and educate—continues to attract and delight increasingly diverse audiences. Classically based and uncompromising in artistic quality, Ventus Machina makes regular excursions into other genres including jazz, opera, Latin and pop, challenging themselves and surprising their audiences.
Program (subject to change)
Scaramouche Darius Milhaud
Our Roots arr. James Kalyn
Mladi/Youth Leoš Janáček
Celtic Suite (2017) Andrew Creeggan
Bird on the Wire Cohen / arr. Kalyn
Four Strong Winds Tyson / arr. George
Aria for Alto Saxophone Eugene Bozza / arr. Vipond
commissioned works
Featuring
Ventus Machina : Karin Aurell (flute), Christie Goodwin (oboe), James Kalyn (clarinet/saxophone), Jonathan Fisher (horn), Patrick Bolduc (bassoon)
Clam Harbour United Church
Saturday 7 September – 5:00 PM

$55 (includes concert and candle-lit three course dinner). Available online.