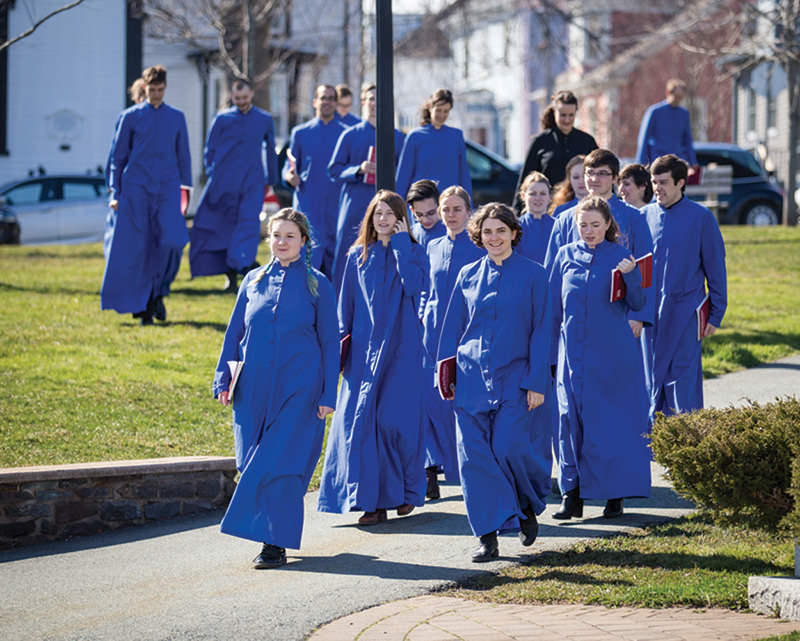 Saturday December 14 2019, 4:00 PM
A King's Christmas
The University of King's College Chapel Choir will return to Lunenburg this December with their 12th annual feast of seasonal song and story, under the direction of five-time Grammy award winner Paul Halley. Described by the Chronicle Herald as "annual magic", A King's Christmas has become an annual tradition for many Nova Scotians. Each year features carols from the mediaeval to the modern, and seasonal readings selected by a special guest narrator. This year's narrator is Old Man Luedecke, Nova Scotia's two-time Juno Award-winning songwriter and banjo player. Old Man Luedecke is loved by audiences not only for the folk tunes he writes with engaging lyrics but also for his off-the-cuff story-telling, both humorous and nostalgic, about life and love, often with a Maritime twist. Old Man Luedecke will be the first narrator of A King's Christmas to bring both spoken word and new music to the role.
The music and the readings change each year, but always feature carols from the mediaeval to the modern, and readings from Maritime authors among others, including poetry, excerpts from novels, short stories, and other literary works.
Past performances of A King's Christmas may be heard on YouTube
About the Chapel Choir
The University of King's College Chapel Choir comprises 24 choral scholars from across Canada who study at King's College and Dalhousie University in Halifax, Nova Scotia. Directed by Paul Halley, the choir has become well-known for its annual King's at the Cathedral concert series, and its performances have been broadcast nationally on CBC Radio 2. The choir's primary function is to sing at the weekly services in the King's College Chapel, as well as other major services throughout the academic year. The choir's CD, Let Us Keep the Feast: Music for the Church Year, was released in December 2013 to launch the university's 225th anniversary year and received the Outstanding Choral Recording Award from Choral Canada.
About the University of King's College
Established in 1789, King's College is Canada's oldest chartered university. A small and extraordinarily lively academic community located in Halifax, Nova Scotia, King's is known nationally and internationally for its highly acclaimed interdisciplinary programs in the humanities and journalism. www.ukings.ca
St. John's Anglican Church Lunenburg
Saturday 14 December – 4:00 PM

$30 ($25 advance). Students $10 at the door.. Available at Lunenburg's Shop on the Corner, and online.